Begin discovering your roots
Our ancestral origins DNA test is just what you need if you wish to learn more about your deep ancestral roots. Yes, this test will in fact link you to that remote part of your genealogical pre-history. Our ancestry DNA test is a cutting edge service we offer for those wishing to dig deeper into their origins. We will provide you with an easy-to-use at home DNA sample collection kit.  Your results will be sent to you by email in 2-3 weeks starting from the time we get your samples.
Read A Beginner's Guide to DNA Ancestry Testing HERE which compares the different types of ancestry DNA tests we offer.
Important: Please note that EasyDNA does not provide a raw DNA result file of this ancestry test.
What will my genetic ancestry map show me?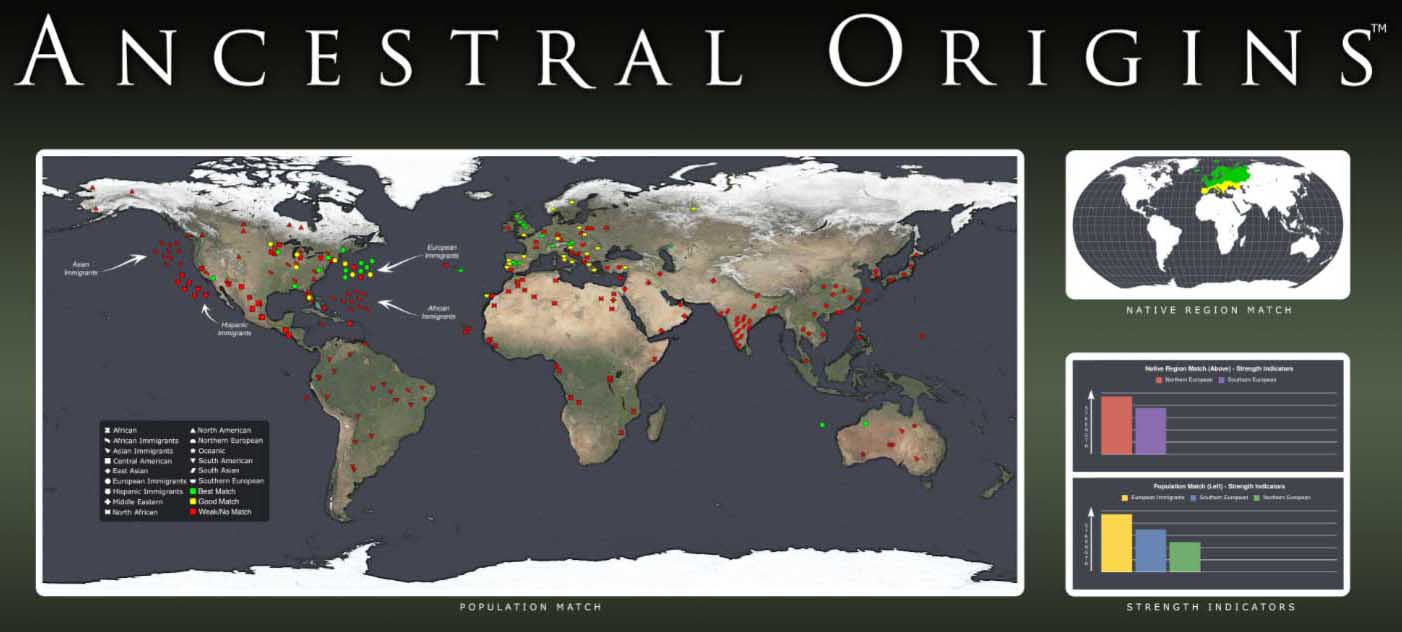 Your ancestry map highlights 3 main aspects of your geo-genetic ancestry and answers the following questions:
How closely does your DNA match to that of studied populations? To do this we use specific colour codes for each population. Different colours will indicate how strong or weak your genetic relationship is to a given group. Yellow, for example, will indicate those groups to which your DNA matches least.
How closely does your DNA match to studied anthropological regions? This part of the ancestry analysis will tell you where your native regional genetic affiliations lie. In other words, we will tell you where your ancestors came from. This should indeed help you find some interesting links and often may be quite surprising as your deep ancestral roots may be very different to those of your recent ancestry.
Strength Indicators: Different colours on your map indicate a different degree of genetic affiliation with your ancestral groups. Different shapes are used to indicate the different studied anthropological groups. We merge these two different sets of data together on bar graphs to clearly display the regional matches and your native region matches.
Why not view a sample of the Ancestral Origins™ DNA Ancestry Report?

Ancestral origins upgrade: take your test a step further
For just an additional CHF50 you can find out even more about your ancestry. If you opt for this upgrade, you will have a pie graph certificate and a report which will elaborate your ancestral roots even further, with a genetic breakdown by percent. The list of population databases will indicate the closest matches to your unique DNA profile within each region. Click below to see the added report and pie chart.

Professional Consultation
We offer a professional telephone interpretation once you receive your Ancestral Origins DNA Ancestry map and report. Consultation sessions are up to 15 minutes in length and are provided by telephone only. If ordered at the same time as submitting your samples for testing, the advanced purchase price per consultation session is CHF82. This service can be purchased after you receive your map for CHF94 per session. Consultation sessions may not be recorded or reproduced without the expressed written consent of EasyDNA.
Our seal of quality: accreditation
Our laboratories are ISO 17025  accredited. With this advanced test we will tell you what geographical region or area your ancestors came from which could include:
North or South African
North or South European
American-European immigrants
Oceanic, Australian
Our database, known as FoGG DB™, contains all the genetic information we need. It is a database of human DNA blueprints which we use to link you to your genetic ancestry. It is this database which also enables us to produce your highly detailed, personalized map. Get an idea of just what your map could look like HERE.
Other tests: GPS Origins™
GPS Origins™ is our most advanced ancestry testing service. This test is able to pinpoint the origins of your ancestors to the finest degree. It can help you discover what countries, cities or islands your ancestors came from through a new ancestry tracking tool known as the Geographic Population Structure (GPS). Read more about our GPS Origins™ Test.